Breathtaking views, rolling meadows and majestic mountains are a few things that you will across your 14 day trip, not forgetting the glistening Mont Blanc. TMB (Tour du Mont Blanc) takes you through some intense valleys and passes, and across all kinds of terrain as we make our way through France, Italy and Switzerland. Together, with your guide we will explore these valleys, hike up ridges and under the beautiful glaciers and snowy capped peaks. Mont Blanc offers some of the most amazing sites in the world, not to mention accommodation and picnic areas.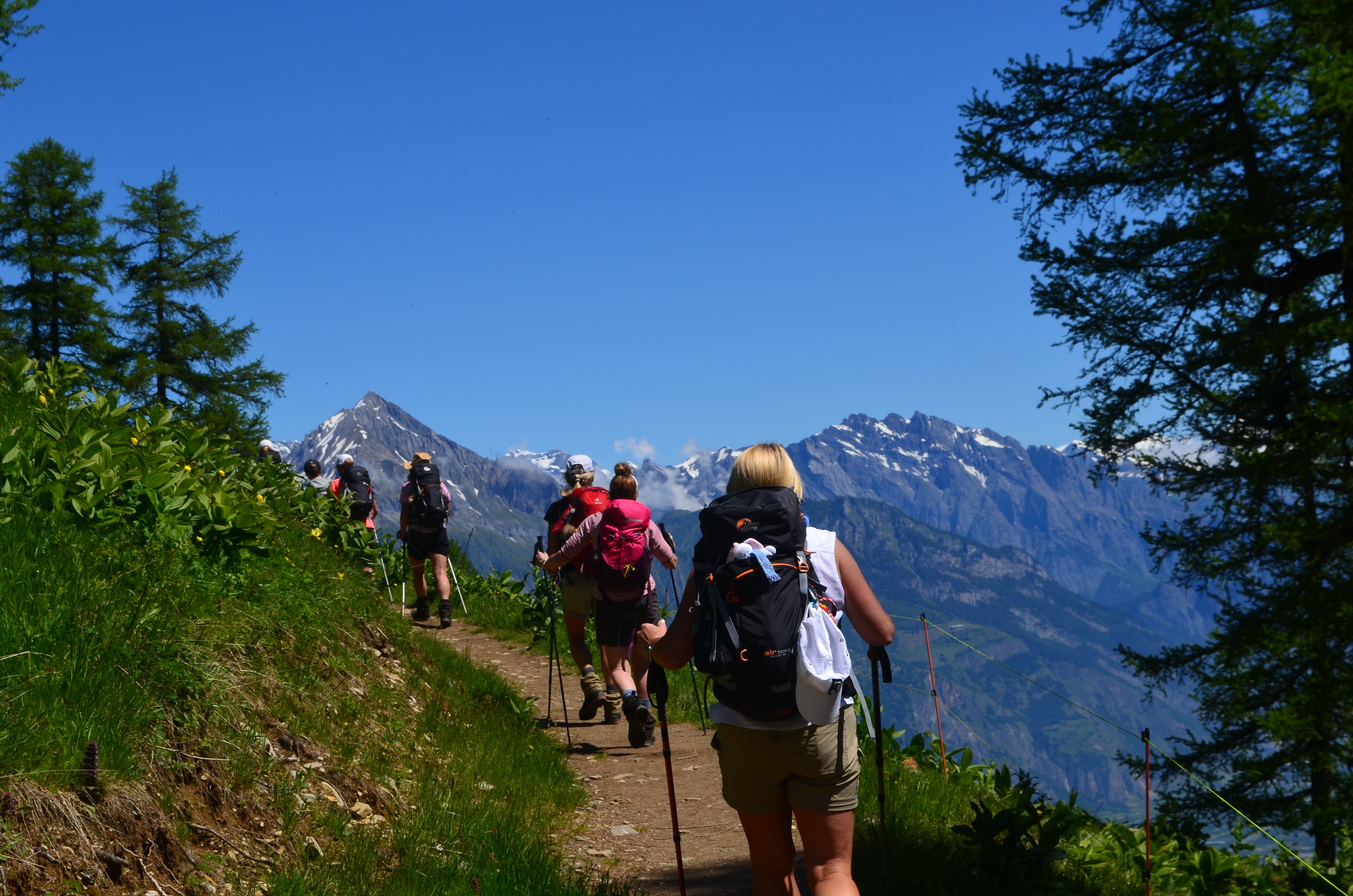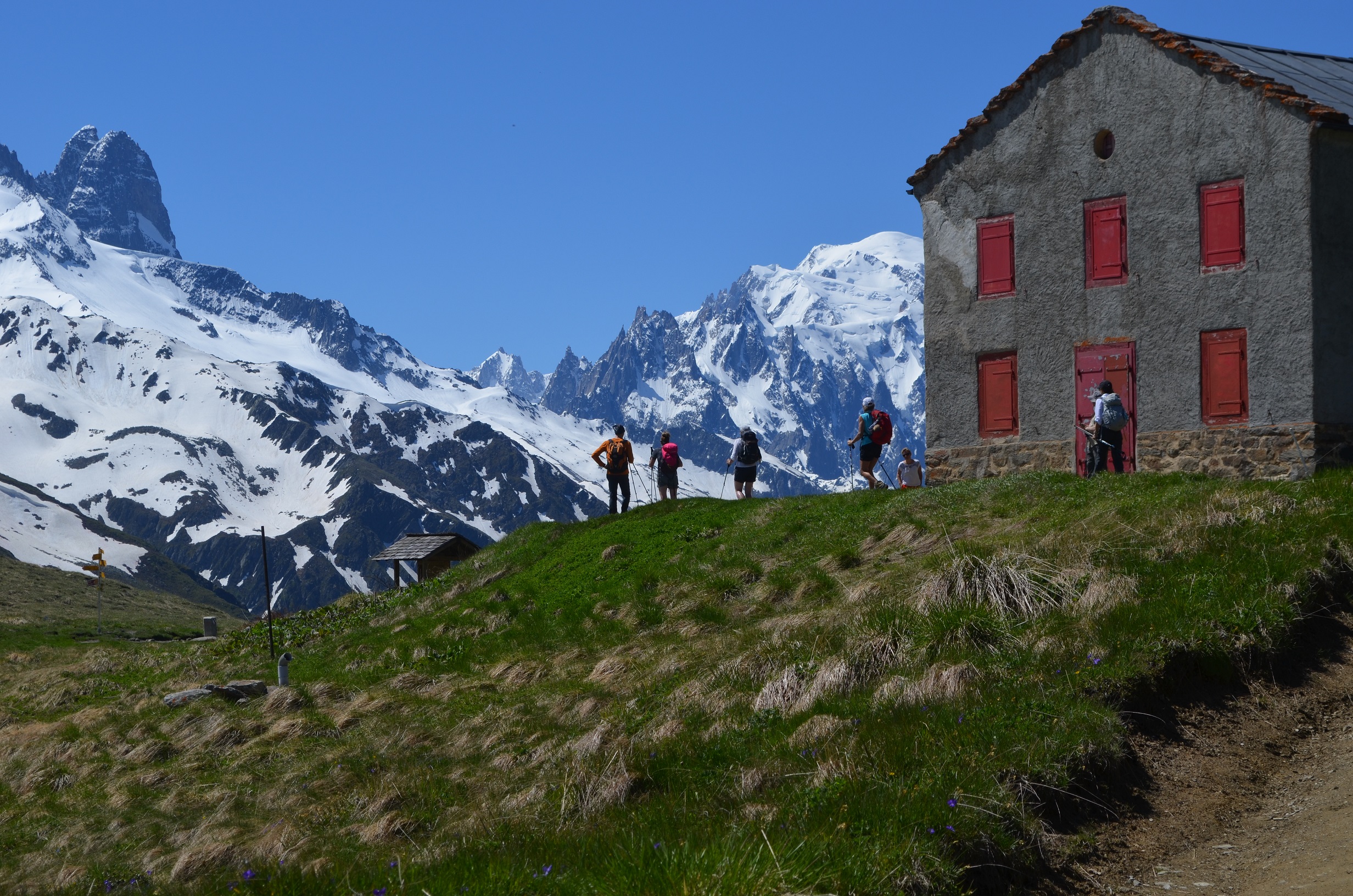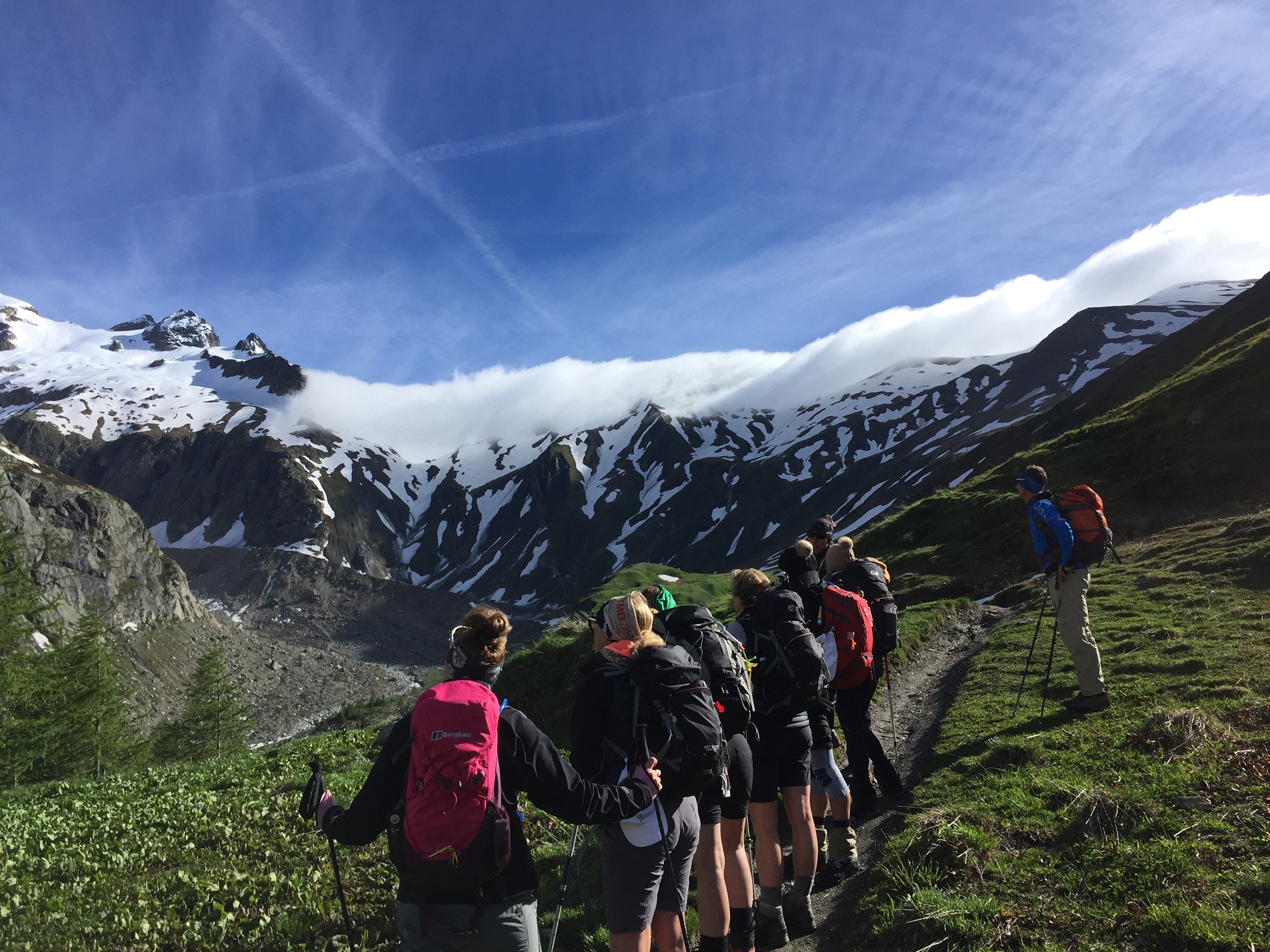 Overview
• 14 day trip
• Accredited Guide
• Australian Guide
• Accommodation and Transfers
• Luggage Transfers
Example Trip Itinerary
Day 1
Arrive in Geneva, Switzerland and transfer to Chamonix to your hotel (roughly 1 hour by car).
Check in to hotel.
Free time to explore.
DAY 2
Chamonix
Today, you have free time to explore Chamonix and its surroundings. Things to do include taking the cable car too les Brevent and witness some amazing views of Mont Blanc, wonder the cobbled streets, enjoy one of the many street cafés or get some last minute expedition items from the many camping stores in Chamonix. We go out for dinner and have a pre-trek briefing by your leader.
DAY 3
Trek from Les Houches to les Contamines : 5 hours
We begin by driving a short distance down the Chamonix valley to Les Houches, then taking the Bellevue cable car to the Col de Voza. This avoids a steep and relentless slog right at the beginning of the trek. Many climbers heading for Mont Blanc also use this cable car. We descend gently to cross the melt stream of the giant Bionnassy Glacier by a swaying bridge before climbing to the Col de Tricot (2,120m) from where we begin to have magnificent views of the glacial chaos of the north face of the Domes de Miage. The path descends steeply at first to the homely Miage refuge in the Miage glacial valley. Here we will have a rest before heading up over another pass before heading down into the charming hamlet of Les Contamines, where we spend the night. Les Contamines inhabits the valley floor with the spire of the old church reflecting the magnificent rocky mountains that surround. Les Contamines is the last major settlement before Courmayeur in Italy. Overnight in charming local hotel.
DAY 4
Les Contamines to Refuge de Mottet : 8 hours
From les Contamines we pass the Baroque church of Notre Dame de la Gorge built in 1699. From there we head along the Chemin Romain, which is an old Roman road, thus the name before crossing the river again over a Roman stone bridge. From there we continue to la Balme, where there is a refuge and then up a steep section to Col du Bonhomme at 2,329m. If the weather is good we will head north east on the Col des Fours variante. The variante is especially spectacular. We may also be able to summit Tete Nord de Fours at 2,756m. From the summit we may even be able to see the Mattahorn but we will have unrivaled views of Mont Blanc. We will pass through la Ville de Glaciers where there is a wonderful Beaufort Cheese manufacturer. From here we continue on to Refuge de Mottet with amazing views of Glacier der Glaciers.
DAY 5
Refuge de Mottet across Col de la Seigne and into Italy to Refugio Monte Bianco : 7 hours
Today we head up another 600 meters in altitude to Colle della Siegn which is the frontier between France and Italy. There is an information centre just below the Col on the Italian side with good information on the area, including a 3D map of the massif. Another long down to the valley below with the wonderful Refugio Elizabetha at one end, where you can get a hot meal or your first Italian coffee. Those with a keen eye will be able to pick out some of the most famous climbing routes on the mountain including the Peuterey Ridge and Brouillard Face. From here, glaciers slowly pour off the massif, creating amazing valleys and wonderful waterfalls during the summer. If the weather is fine we will be able to take a high route towards our final destination of Refugio Monte Bianco, otherwise we will take the valley floor through lush grasslands and glacial moraine fields. From Refugio Monte Bianco, a wonderful patio overlooks Glacier de la Brenva (a great spot for an afternoon wine).
DAY 6
Refugio Monte Bianco to Courmayeur : 6 hours
While this is a relatively short day, the long down from Refugio Maison Vielle can be very taxing. After a great breakfast, we climb back up to la Maison Vieille (1,956m). Here we will have a chance for a morning tea. The inside of this place is amazing run by an eccentric local. Do ask the guardian to tell you the story of how the actress Penelope Cruz turned up in a snowstorm one night (strange but apparently true). It is a long down through beautiful pinewoods and along steep and narrow paths, but the reward at the end, Courmayeur more than makes up for it. Italy's answer to Chamonix, Courmayeur during winter is one of Italy's premier ski resorts. Charming cobbled streets open only to pedestrians create a relaxed village atmosphere with sophisticated bars, cafes and restaurants. The dark stone Mont Blanc massif with its snow peaks looms over Courmayeur forming an amazing backdrop to one of Europe's most beautiful towns. Here we will have lunch and dinner Italian style.
DAY 7
Courmayeur to la Vachey : 5.5 hours
After a relaxing breakfast we set off up a path from Courmayeur crossing a torrent then climbing steeply through thick larch forests (some of the most beautiful on the trail) on a good path to the refuge Bertone (1,989m). This is a great place for a cappuccino. From there we ascend the Mont de la Saxe ridge, a wide grassy ridge dotted with wildflowers which has superb views of the Italian side of Mont Blanc and the South face of the Grandes Jorasses, before crossing the airy summits of la Tete Bernarda (2,534m and la Tete de la Tronche 2,584m). After a couple of hours, we reach Refuge Bonatti before heading down to the valley floor to la Vachey
DAY 8
La Vachey to La Fouly : 6 hours
This morning we head up to the Grand Col Ferret the frontier between Italy and Switzerland. Along the way we will stop at Refuge Elena for a morning tea or coffee. There are spectacular views towards Mont Dolent whose summit divides three countries, Italy, France and Switzerland. From there we head down to la Peule which is a great place for lunch. Here we will have a warm meal of local produce such as cheeses and breads (delicious). From here it is another 2 hours through wildflower meadows along sinuous streams to the village of La Fouly where we will check into the delightful Hotel Edelweiss
DAY 9
La Fouly to Champex : 5.5 hours
A small mountain road comes up the Swiss Val Ferret to La Fouly from Champex but we are able to walk on the opposite side of the valley on a path, which meanders through pleasant pine forests. We pass through the village of Praz de Fort and to the well-preserved village of Issert. We hike along the narrow street between old chalets and grain stores in their original condition. This day is notable for the beautiful old Alpine buildings that we pass. The trail then branches off the main valley and climbs gradually around the hillside, traversing above the pretty village of Champex with its deep blue lake. (For those who wish to shorten this day it is possible to take a local bus from La Fouly to Champex.) We continue along the lakeshore and finally climb 200 metres to the refuge at Relais d'Arpette (1,627m).
DAY 10
Across the Fenetre d'Arpette to Trient : 7 hours
One of the best mountain days on the whole trek takes us across the Fenetre d'Arpette (2,665m). This high col lies at the head of the Val d'Arpette and the crossing is one of the finest variants on the TMB circuit. The ground is fairly rough but never technical and when we reach the pass we are rewarded with a fantastic view down to the Trient Glacier and across into the glacial bowl of the Plateau du Trient with the Aiguille du Tour (3,544m) rising above (Crossing the plateau de Bovine is an easier or bad weather alternative). We descend steeply to the village of Trient where there is a small refuge.
DAY 11
Relais Mont Blanc (Trient) to l'Auberge de la Boerne : 6 hours
The last big climb of the TMB sees us ascending a little over 500 metres to reach the Col de Balme (2,131m). This ancient pass forms the border between Switzerland and France and as we descend down towards the village of Le Tour on the French side a spectacular panorama opens up across the entire Mont Blanc range and we find ourselves gazing down the valley towards Chamonix itself.
We descend from the Col de Balme to the Col des Posettes past old transhumance chalets then climb up to hike along the impressive Arete des Posettes with it's views of Mont Blanc and the enormous glaciers of its Northern side. Our accommodation for the night is at the old Auberge de la Boerne(1,380m), an authentic farmhouse that still even has the holes for the cows to place their heads in while being milked!
Day 12
Trek from Auberge de la Boerne to Chamonix : 7 hours
From Argentiere we take the local bus up to the Col des Montets and ascend via Tre le Champ (1,417m) and Cheserys into the Aiguilles Rouge on a spectacular high level path known as the Grand Balcon. In this elevated position we can gaze across the valley towards huge Argentiere Glacier and the tremendous Aiguille Verte (4,122m). At Cheserys we can make a detour to Lac Blanc (2,352m), a famously photogenic spot where the Chamonix Needles can sometimes be wonderfully reflected in its still waters.
Day 13
Chamonix
Today you have so many options; you may not know what to do with yourself. Relax in Chamonix and enjoy the rest of the day, we'll celebrate that night with a meal in the town.
Day 14
Depart Chamonix to Geneva Return transfer this morning from Chamonix to Geneva (either the airport or your hotel).
Prepare for your trip
Our training comprises of trekking, strength & core Sessions along with some altitude training. We spend the majority of time working on our leg & core strength along with trekking outdoors. As TMB is our longest trek, spending time on your feet with a day pack is imperative. With our trekking we get out to the Dandenongs, Macedon Ranges and some urban walks. Altitude is an added bonus we can offer for your preparation.